10/12/2018
NCA International
---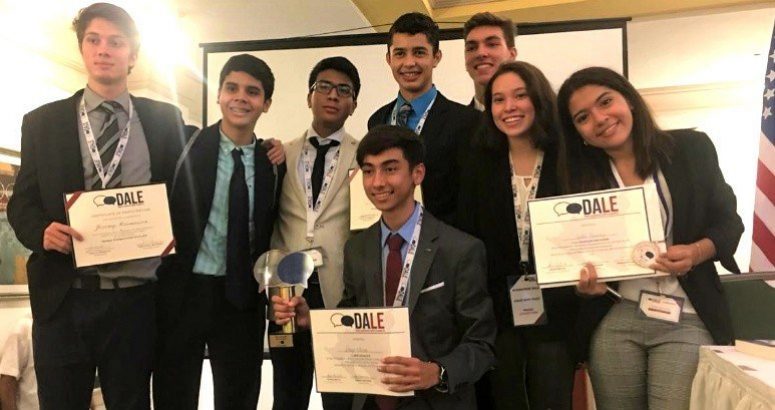 By Milagros Juárez and Luis Castellón (NCAI Spanish Teachers)
The Camino Real Hotel in Managua was all dressed up as it welcomed the students of many schools in Nicaragua on October 12 and 13 in the VI Congress of Academic Debates of Student Leaders (DALE).
This event is a simulation of the committees of the OAS, in which solutions to common problems in the American continent are debated using parliamentary procedures. NCA International attended with a delegation of 12 high school students.
The experience allowed us to see how our future leaders took their roles seriously and brought real life solutions to the simulated situations. Three of our students received awards and special recognitions for their excellent work in the committees. The awards received by NCAI students included "Best Delegate in the OAS Special Mission", "Honorable Mention in Press Corps", and "Outstanding Delegate in the Interamerican Court of Human Rights."
After the event, students shared about their experience:
"Poder estar en un ambiente en el que se pudo simular la corte, solo me hizo enamorarme a un nivel mayor del debate. Yo personalmente lo tomé en serio, estudié y me esforcé con la ayuda de Dios y mi clase electiva de Debate que sacó esa voz que estaba escondida." (Estudiante, 10mo grado)

"I could say that since eighth grade, DALE has formed me into a leader. Starting with debating about difficult topics (…), and forming resolution papers to managing a committee of 15 students. I'm very grateful that I discovered DALE, and made it, ever since, a part of my life." (Estudiante, 11vo grado).
Events like this allow students the necessary tools to develop a love for debate and a healthy leadership that prepares them for their futures.
Published on December 10, 2018. Written by Milagros Juárez and Luis Castellón. Translation by Liam Starkenburg. Photos by Milagros Juárez.