12/10/2018
NCA International
---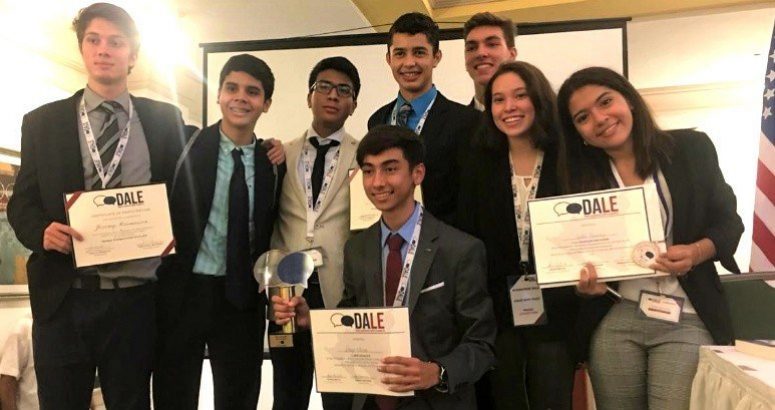 Por Milagros Juárez y Luis Castellón (NCAI Profesores de Español)
El Hotel Camino Real, Managua, se vistió de gala al recibir a los estudiantes de los diferentes colegios de Nicaragua los días 12 y 13 de octubre en el VI congreso de Debates Académicos de Líderes Estudiantiles (DALE).
El evento es una simulación de los comités de la OEA, donde se debaten de forma parlamentaria las soluciones a los problemas comunes del continente americano. NCA International asistió con una delegación de 12 estudiantes de secundaria.
La experiencia permitió ver cómo nuestros futuros líderes se tomaron en serio sus roles y aportaron soluciones reales a situaciones simuladas. Tres de ellos obtuvieron premios y reconocimientos especiales por su excelente trabajo en los comités. Los premios de "Mejor delegado de "Misión especial de la OEA", "Mención honorífica" de "Cuerpo de prensa" y "Delegado destacado" de "Corte Interamericana de los derechos humanos" fueron ostentados por estudiantes de NCA.
Posterior al evento, los alumnos hicieron muchos comentarios, entre ellos:
"Poder estar en un ambiente en el que se pudo simular la corte, solo me hizo enamorarme a un nivel mayor del debate. Yo personalmente lo tomé en serio, estudié y me esforcé con la ayuda de Dios y mi clase electiva de Debate que sacó esa voz que estaba escondida." (Estudiante, 10mo grado)

"I could say that since eighth grade, DALE has formed me into a leader. Starting with debating about difficult topics (…), and forming resolution papers to managing a committee of 15 students. I'm very grateful that I discovered DALE, and made it, ever since, a part of my life." (Estudiante, 11vo grado).
Eventos como este, aportan en los estudiantes las herramientas necesarias para desarrollar un amor por el debate cultivando un liderazgo sano que los prepare para su futuro.
Publicado el 10 de diciembre del 2018. Escrito por Milagros Juárez y Luis Castellón. Fotos por Milagros Juárez.