4/19/2017
NCA International
---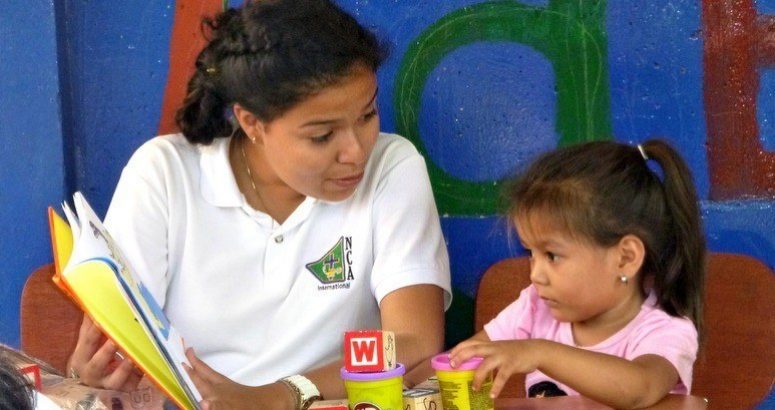 By Joycelin Kim and Paola Martínez (Junior Class of 2018; Student Leaders of Leamos)
Leamos began as a vague idea of how to reduce the cycle of poverty in Nicaragua through educational means. This vision turned into a reality when the organization's founders, Alejandra Martinez and Kaitlyn VanderWees, won the HACIA Democracy Social Entrepreneurship Challenge in 2015. The funds provided to them by Harvard University allowed them to implement Leamos at a neighborhood called El Salero. During the first year, NCAI high school students served as Spanish teachers and assistants for young students, promoting a passion for reading and learning. The vague idea had now become a concrete way to make a positive difference.
In 2016-2017, Leamos became an official extracurricular activity of NCAI. More students volunteered with a commitment to spend their time tutoring children every Thursday after school from 3:00 to 4:00 p.m. With more member volunteers available this semester, we decided to change our location. We coordinated with the director of Colegio San Luis, the public school located closest to NCAI, and Leamos began working with their students in February. In addition to helping children learn to read and enjoy reading, this project is also further consolidating NCAI's relationship with the neighboring community.
Service is an essential component of Christianity. We are called to serve others, sharing in love and joyfulness. Leamos is a clear embodiment of this value. Students are not compelled to go for a reward; they serve the community out of their own willingness and desire. It is when patience is shown and love is present that we can open the hearts of others and encourage them to grow. Moreover, Leamos symbolizes the power that God has given us as youth to make a change in society. It is our duty then to set an example in speech, in conduct, in love, in faith, and in purity to other believers, keeping in mind that our youthfulness does not limit our impact within society.
Published on April 19, 2017. Written by Joycelin Kim and Paola Martínez. Photos by Susan Hall.