2/9/2018
NCA International
---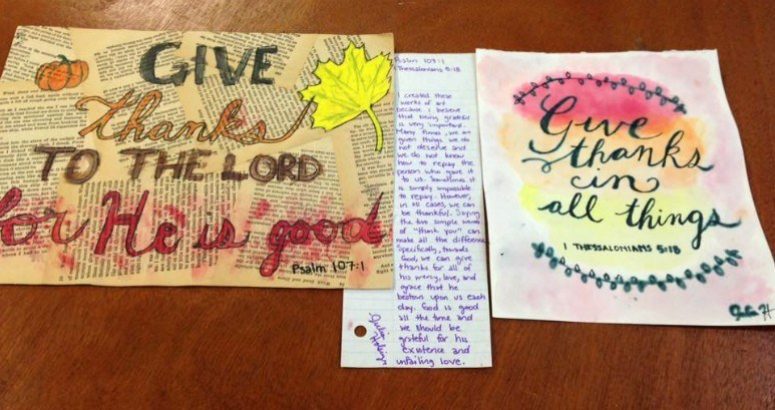 By Matt House (NCAI Chaplain)
For the past three years, the youth group at NCAI has had a worship night on the Wednesday before Thanksgiving. Youth group worship nights are called Amplify. All of the 6th to 12th grade students are invited to join in a night of worship through music and other activities on Amplify nights.
Part of the purpose of this night is to expand student's view of worship past musical worship. This year a new element was added: Worship through the Arts. With the leadership of 5th grade teacher Alyshia Van Kannel, high school students at NCA International were invited to come and practice worshiping through the arts. There were several different seminars offered, but two received the most interest.
One group worshiped through the visual arts. Angie Johnson and Makenzie Tezak led a group of ninth grade students in creating art. The other group of teaching staff was led by Susan Hall to create art using scrapbooking techniques.
Later in the night the high school youth band led worship through song. During the night, students practiced gratitude to God through an activity based on the song 10,000 Reasons. The challenge was to come up with reasons that they could find to praise God. Psalm 106:1-2 says:
Praise the Lord!
Oh give thanks to the Lord, for he is good,
for his steadfast love endures forever!
Who can utter the mighty deeds of the Lord,
or declare all his praise?
Even though we can remember the great things that God has done in our lives, we are unable to completely describe everything that he has done.
The youth group was challenged to start this practice of gratitude, and we'd like to invite you to continue to do so. If you would like, please stop by the hallway outside the cafetin and add to our reasons to praise God.
Published on February 9, 2018. Written by Matt House. Photos by Matt House and Phyllis Thomas. Artwork by Julia Holsinger.