11/16/2016
NCA International
---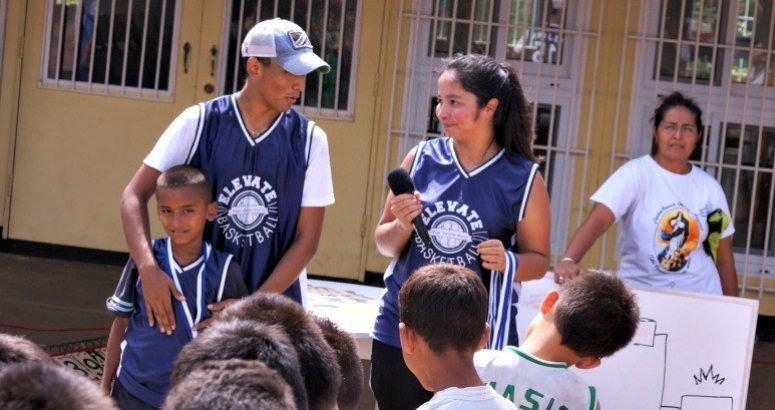 By Nicole Molina (Senior Class of 2017, NCA International)
20 high school students, $2000, 80 young boys, and 10 weeks later, the second annual Elevate Basketball Camp has come to an end. It all began this summer when Alex Bajana (NCAI 12th grade) and I (Nicole Molina, NCAI 12th grade) decided to take on the challenge of raising money to put together Elevate Basketball Camp. Both Alex and I participated in the first Elevate organized by former NCAI student Gabriel González (University of Pennsylvania) and we knew we wanted to continue this project.
Elevate consists of a group of high school students training young boys from the local orphanage Hogar Zacarías Guerra. Every Saturday for the past 3 months we have gone out to the orphanage and trained 8 teams in the different areas of Basketball along with small devotionals to share our Christian values with them. Each team consisted of two coaches (NCAI students) and 10 boys. For many weeks in advance, Bajana worked alongside the orphanage to decide the teams of boys and the schedule. In addition to that, he contacted a company that provided all the children and the coaches with personalized professional jerseys that belonged to each team.
Throughout the past few months we saw the hand of God working with us. We had 30 donors who generously donated to our cause. God provided 18 other high school students who were willing to give up their Saturday mornings to come help. On the final day of the championship, God provided a professional sound system already set up on the courts even though we had not hired them, and pizza that arrived just on time. Thanks to the cooperation of NCAI and FCA we had basketballs to our disposal each Saturday and thanks to my father Hernaldo Molina we had free transportation each Saturday for all the coaches.
Published on November 16, 2016. Written by Nicole Molina. Photos by Scotty Parajón.