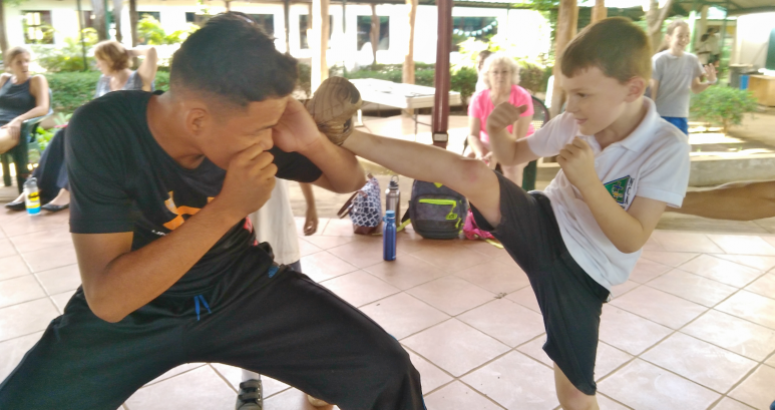 By Karel Norman (NCAI Athletic Director)
The Mayo Clinic lists the following 5 benefits of regular exercise:
Helps control weight
Combats health conditions and diseases
Boosts energy and improves mood
Promotes better sleep
Can be fun and social
NCAI has been promoting their Eagles in Training program for several years now. They have hosted a variety of different 6 week camps including Soccer, Basketball, Volleyball, Dance, Gymnastics, and this year they added both Karate and Rugby. Already this semester more than 115 primary students have participated in Eagles in Training sports camps. In addition to receiving the benefits listed above each of these students are learning valuable life lessons such as the importance of teamwork, learning how to win and lose with dignity, the incredible value of encouragement, how to have a positive attitude, how to play within the rules, how to respect those in authority over you, and so many more.
In addition to all these benefits, each child also receives a t-shirt for each camp they attend, and an NCA Eagle award (given to the student who most represents Christ and all the character qualities NCAI strives to promote) is handed out after each day of camp.
If your child is not a regular attender at NCAI's Eagles in Training camps this author couldn't give a stronger recommendation than to give it a try. You will not be disappointed!
Not only does participating in Eagles in Training aid in everything described above, you also just may find a spouse! In a surprise event, NCAI's music teacher Michelle Van Heiningen officially got engaged to Eugene Castillo at our recent rugby event hosted at the National sports complex in Managua. All the students who participated in our Eagles in Training rugby camp were invited to join the Nicaraguan national team on the field after a 26 - 0 victory over El Salvador. The kids got to play a mini game and interact with the stars of the national team, one of which was their instructors for the E-in-T camp.
Published on December 13, 2017. Written by Karel Norman. Photos by Andrea Baker and Myra Norman.